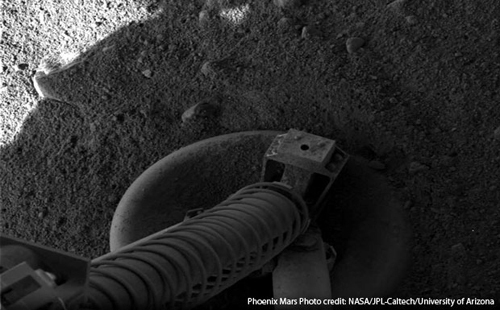 Congratulations to the team behind the successful landing of NASA's Phoenix Mars Lander this weekend. In the coming months, the Lander will send back data that will hopefully answer questions about the past and present climate of Mars, the Martian arctic's ability to support life and the history of water on the planet.

Here are some different ways you can follow the Mission on your Mac:


1. Phoenix Mars Mission website
This
site
is, as you would expect, the primary source for the latest images, video, news. There is some great
blog content
here, too. As an aside, check out this
CIO article
about the behind-the-scenes challenge of serving up web content for the mission in near-real time to tens of thousands of people at once. It's especially impressive considering that the imagery content is streaming in from millions of miles away.
2. Twitter with the Phoenix
Yes, even the Phoenix Mars Lander has a
Twitter account
. This is a convenient way to get regular updates — and the spacecraft is even responding to user questions (the tweets are written in the first 'person').
3. Visit the Mission on Second Life
And, yes, there's also a
Second Life site
for the Mission.
4. Mac screensaver, widget
You can download a couple of
Mac freebies
over at the Phoenix Mars Mission site. The Mac screensaver features current imagery that auto-updates each time it is launched. The widget provides current Martian weather data.
5. Get the iTunes podcast
There's also a Phoenix Mars Mission
podcast
hosted by the
University of Arizona
. This is the first time a public university has led a Mars mission.
I'll leave you with an interesting fact: there is a DVD fastened with Velcro to the Phoenix Mars Lander. It's called
Vision of Mars
, and it's a compendium of Mars-related text, art, and radio broadcasts from the 19th and 20th century compiled by the
Planetary Society
. It also contains 250,000 names of Society members and space exploration enthusiasts. According to the Society, it's "a message from our world to future human inhabitants of Mars." The disc, billed as the 'first library on Mars,' is reportedly the most expensive DVD ever made. It's comprised of silicon glass and is designed to last for 500 years.
If it were up to me, I would have attached a Nintendo Wii.